Welcome to the Saint George Greek Orthodox Church Website
Click the
DONATE
button to make a safe and secure donation of any type – banking, credit or debit. Or download the free Tithe.ly app from the Apple Store or Google Play.

---
Live Streaming Services
May Streaming Sponsors
Marina Atsalis In Loving Memory of Helene Phofolos
Sophia Menaxopoulos in Memory of Loved Ones
---
Services Schedule
Sundays: Orthros (Matins): 8:30 AM | Divine Liturgy: 09:45 AM

Like us on Facebook!
---
Join Our Email List
Note: If you are not receiving weekly reminders and announcements via email, and would like to do so, please notify the church office or click below to subscribe.

---
ST GEORGE 2020 CHARITY GOLF FUNDRAISER

Welcome Back to St George
The risk reducing measures below have been given to us by our Metropolis and civil authorities. Please keep them in mind when you come to pray with us.
Face masks are required
Please practice social distancing at all times
Enter through the hall doors
Touch-less temperatures and contact information will be taken
Venerate by bowing to icons
Use center aisle keeping 6 ft apart for Holy Communion.
To receive, tilt your head back, mouth wide open to allow Father to drop Holy Communion in without closing your mouth on the spoon
Use red paper napkin to wipe your mouth following Communion
Antidoron will be distributed with tongs
The Parish Council will be available to assist you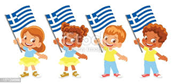 ST GEORGE GREEK SCHOOL PROGRAM
Our Greek School is back in session
with Dora Kamenidis as teacher.
Classes will be held Tuesday and Thursday afternoons starting at 4:30pm.
For more information call the church office: 508-775-3045
---
Join Our Email List
If you would like to stay informed of what is happening at the church we invite you to join the St. George Greek Orthodox Church of Cape Cod email list. Click here to add you name and email address.
Online Chapel
Parish Newsletter
The "Orthodox Witness" newsletter is posted under the "News" tab. All are welcome to submit content, including photos. If you have any content you would like to submit please contact the church office.
Thank you Marina Atsalis for sponsoring the May/June newsletter In memory of those we loved.